(Last Updated On: December 6, 2022)
It was indeed an exciting day in the life of Auchi Polytechnic. An honour for our institution to be chosen to pioneer the blended GIZ/GOPA ICSS Entrepreneurship Training Programme in South-South Nigeria. The need to develop entrepreneurial skills and capacity is now a key component needed for today's world. Being an entrepreneur and an employer of labour is now the new normal largely due to diminishing white colour job placements and growing unemployment.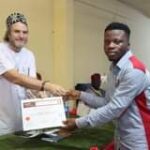 Recall on the 1st of September 2022, I did announce the birth of a partnership between our Centre for Entrepreneurship Development (CEDAP) and the German initiative cooperation (GIZ) which has been in the forefront of providing technical assistance in the area of entrepreneurship training across the world. That partnership is already yielding results. So, it was with great pleasure and relish that today's occasion of presentation of certificates to our first set of graduands (25 in total) remains a pivotal point in the history of Auchi Polytechnic.
A look at the current realities in our nation today creates the impetus for the programme as SMEs remain the largest industry in Nigeria. Basic preparatory guidelines for start-ups such as the need to develop financial intelligence and knowledge of avenues for accessing finance is now a major skill set required to be relevant. Through the training, students are equipped with a clear picture of where their career is headed. Whether in a paid employment or being an entrepreneur. The management of Auchi Polytechnic is therefore considering making the acquisition of a skill and getting certificated mandatory for all our students before their graduation. We are committed to actualizing this.
I sincerely appreciate the support of His Royal Highness, Alhaji Aliru H. Momoh, (Ikelebe III) the Otaru of Auchi Sacred Kingdom who was ably represented at the occasion by Chief Yahaya Dirisu. I also salute the officials of GIZ/GOPA ICSS and the team lead of GIZ Peik Bruhns, the Coordinator and MSME expert of GOPA Longkat Nuhu, the trainers Princess Meriamu Momoh, Moses Akhigbe and the entire CEDAP team for making this dream a reality through their commitment towards the actualization of this laudable initiative of improving the lives of our students. Big things always start small and we remain confident that this is the beginning of changing the narrative of entrepreneurship in Nigeria.